Lego Luke Skywalker's X-Wing Fighter 474 Pieces Toy Set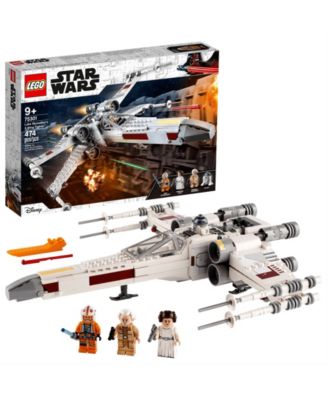 Sold and shipped by or fulfilled through macys.com
Disclosure: We earn from qualifying purchase
---
Get set for a thrilling trench run in Luke sky walker's iconic X-wing fighter. Make sure faithful droid R2-D2 is on board and then jump in the cockpit. Fire up the engines and launch into space. Switch the wings into attack mode and fire the spring-loaded shooters at imperial starships.
---
Rated

2

out of

5
by
JayDeeCee
from
The landing gear is awful
The landing gear does not retract, which isn't great but could be forgivable on a cheaper version of the x-wing. However, the pieces used to connect the ski to the landing gear piece on the front landing gear are super unorthodox and do not attach well. I am not sure who thought that connection was a good idea, but it seems like an afterthought and I wouldn't even think that was a sanctioned way to use the pieces, much less to see it in an official set. In any case, the ski forms a weak connection to the landing gear leg, and is going to fall off every single time you pick up the x wing. For a set aimed at kids and playability, this is a huge downside.
Date published: 2021-04-09
Rated

5

out of

5
by
The Paladin
from
Excellent Value
I consider myself to be very critical of the Star Wars collectables that I purchase. That being said, My wife bought this set for me for Valentines Day, and I could not be happier! This X-Wing model is true to the film at an extremely good price point. The proportions and scale seem to be nearly perfect, and I appreciate the new X-foil mechanism that allows the wings to stay open/closed without the need of a rubber band. The only criticism I have is that R2-D2 sits a little too high in the chassis. However, this is a very minor complaint, and in my opinion, does not detract from the very nice quality of this build. Well done, Lego... more like this!
Date published: 2022-02-18
Rated

5

out of

5
by
LegoFan5820
from
The Death Star is doomed!
After backordering this a little over a moth ago, it finally arrives, and boy, was it worth the wait! As a LEGO Star Wars collector, this is, surprisingly, my first full-size X-Wing starfighter, and it is a great first X-Wing! The minifigures include Luke Skywalker and R2-D2, of course, but LEGO also threw in Princess Leia and General Dodonna, which are both great, and all the figures (besides R2-D2) have double faces! The starfighter itself is beautiful, and measures almost thirteen inches, which makes it longer than in looks in pictures. The wing mechanism works great, and it has good "swoosh-ability" and playability. I think the only thing negative I would say about it is that the spring-loaded shooters are only on the bottom wings. For a recent time, LEGO put them on all four wings, which I'm disappointed they stopped doing. Not a big deal, just a personal preference. Overall, this is a big 9.5/10 for me, and would 100% recommend. The Death Star is going down!
Date published: 2021-03-09
Rated

3

out of

5
by
62u3u3o1i17383ueh73u2
from
Not quite up to lego standards.
There are lots of little things wrong with the set I received. It may just be bad luck as they are trying to rush them out the door but I was disappointed. The front landing gear is extremely loose. If the lego is picked up it generally falls off. The color match between parts is poor on several pieces including the red hinged pieces. Several pieces like in the picture had another color streaking through. This is a defect in the plastic as I tried to clean it without a positive result. Overall I think it would have been a good set but the quality was low on what I received.
Date published: 2021-02-21
Rated

2

out of

5
by
NosyMushroom057
from
Sorry didn't drink the kool-aid
I don't know what most people are thinking here. I love Lego but won't claim something is great when it's clearly not. This is the worst x wing Lego has made in years. All the sequel trilogy x wings are better then this one. The x wing that can switch between red 5 and 3 are better then this. Lego was very lazy with this one. The wings only have shooters on the bottom, way to many stickers n bad ones at that, R2 sits way too high n it just looks terrible, and no retractable landing gear. The only good think about this set is General Dodonna and that says a lot. I love the latest tie fighter that is out now but this is the worst x wing to date for sure.
Date published: 2022-05-04
Rated

4

out of

5
by
BecksTN
from
Super fun to build!
My husband and I bought this x-wing and we were really excited to build it together. We had a LOT of fun and felt so proud with the end result! I think it's a pretty easy build and we enjoyed ourselves. If we could change anything about the finished product, it's that I would agree with a few other reviews that some of the pieces don't seem too sturdy. It really is more of a LEGO model and not an actual TOY for children. We mostly want it displayed - but, that's our second minor inconvenience. We would've loved to have the wings remain open for display. It's not a big deal, but would've been pretty cool to somehow lock them into place for display. Still had a blast, 100% recommend, and will purchase more in the future!
Date published: 2021-05-03
Rated

5

out of

5
by
Mastrhylia
from
Great Value
I purchased this set yesterday. When I started building it, I was slightly concerned about the size, but when I finished, it worked out well. I love the minifigures and the R2-D2. Some of the pieces interested me, such as the 1 by 1 brick with the axel hole, and the 6 by 2 tile. the set is very sleek and flows well together. I am a little disappointed that the front landing gear can't retract. also the wings are a bit wobbly. I might be wrong, but I've never noticed that R2 is up so high in the ship. I love how the nose of the ship is designed. I also think the stickers make the ship look really accurate. Overall, this is a great set.
Date published: 2021-02-14
Rated

2

out of

5
by
StarWarsFan4
from
Red five is not really standing by
Red leader: "Lock s-foils in attack position." Red five: "Okay... but they don't lock." Here is the main problem with the set. The wings don't stay open the whole time when you are swooshing it around!!!!!! Also the landing gear doesn't go up either!!!!! The figures are cool though and this is my favorite toy but it is not a super high quality LEGO set. If you were planning on playing with this with the Razor Crest it is not the right scale. But the X-wing looks good in front of my A New Hope poster.
Date published: 2021-01-11
bvseo_sdk, dw_cartridge, 19.1.0, p_sdk_3.2.0
CLOUD, getReviews, 7ms
reviews, product